Here's Why Content is Important for SEO
Quality SEO content is vital in ranking higher on the SERP. Check out why content is important for SEO and how to improve your own on-page content.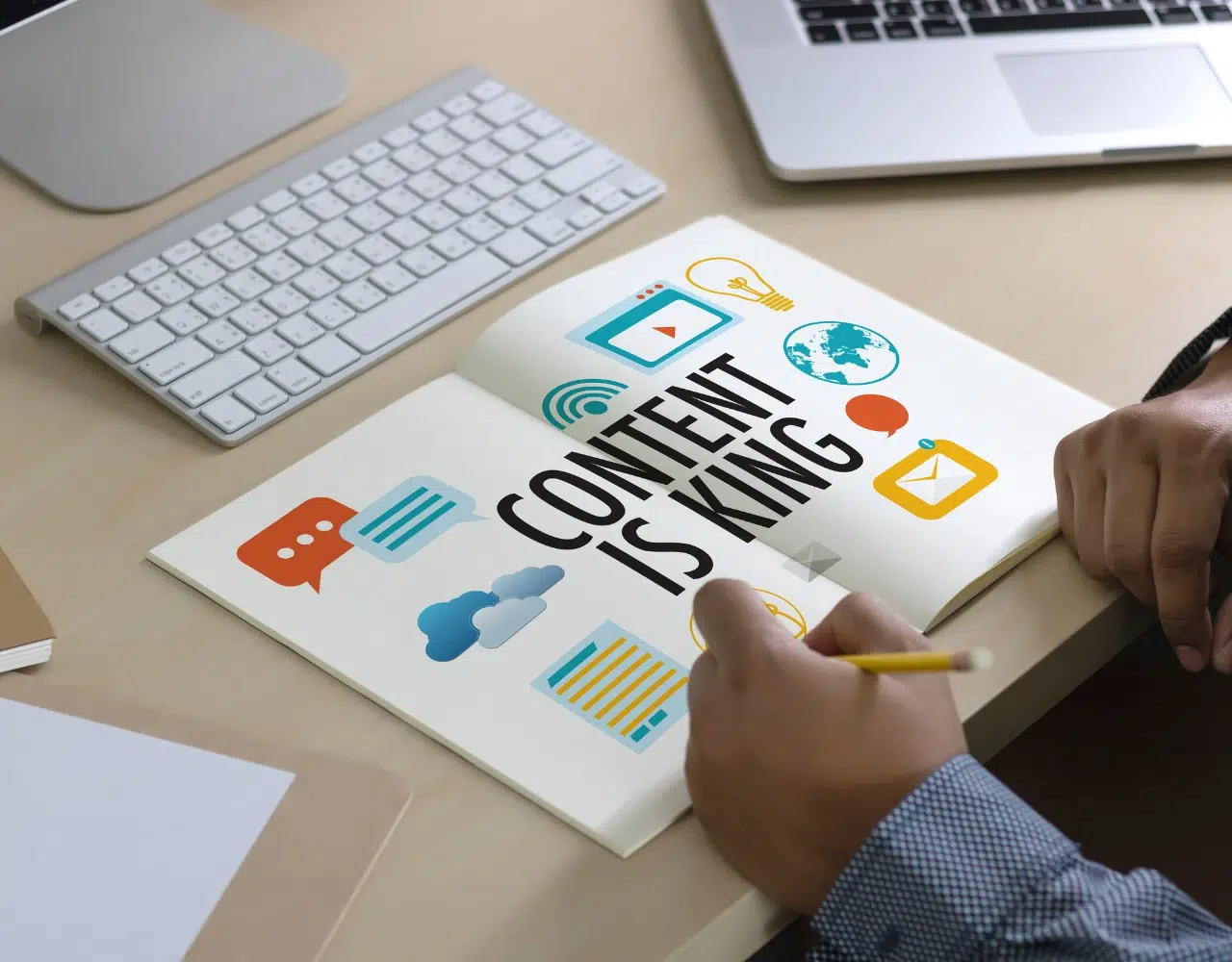 Building an online presence that encapsulates everything about your brand can be daunting. It's a huge task that needs meticulous thought and attention that will pay dividends in the long run. Crafting quality content for SEO is part of the whole equation when trying to rank higher on the Search Engine Results Page (SERP).
Hosting a robust library of content on your website will present your brand as an authority in your industry. It will drive web website visitors and give your target audience a reason to recall your brand as a leading source of reliable and relevant information.
Let's take a look at why creating content is important for SEO strategies and reaching higher search engine rankings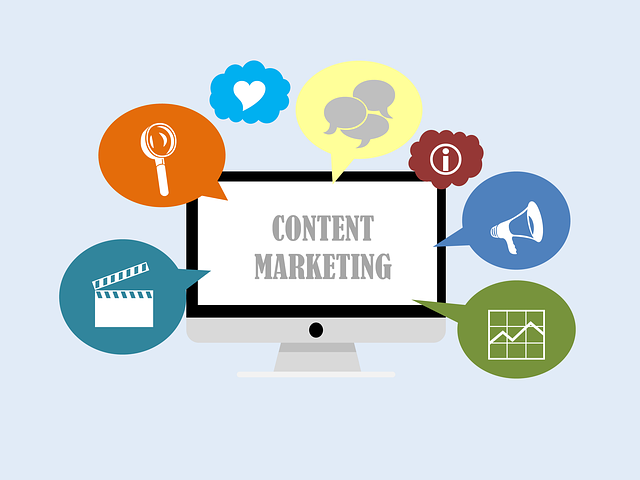 (Image Source: Pixabay)
What is Quality Content for SEO?
It's important to establish what exactly quality SEO content is in the marketing world. As a guiding principle, quality content creation has to be something that engages people. It has to achieve the goals that you set for it, and it has to have meaning. The end goal of your content should be encouraging the user to take some sort of action on your website.
This is the framework that you will use to measure the productivity of your content. There are a ton of various strategies you can employ to achieve such results when you write SEO content.
Below are some things to keep in mind when creating great content for your website:
Make it easy to digest
Look into how similar content is presented on other websites
Link to authoritative sites that support your content
Create a strong hook early on that keeps them from leaving the page
Acknowledge a pain point early on and provide a solution for it
Include relevant search results and keywords
Here are some examples of ways that you can measure quality content:
Strong click-through rate (CTR)
Low bounce rates
High time-on-site sessions
More traffic
Increased social shares
More leads attributed to content sessions
More revenue attributed to content sessions
Higher first-page search rankings
More visibility
More high-quality links to your own website
An indicator that a piece of content is of high quality is its ability to captivate more users and give them a reason to stay on the web page. This is typically measured by time-on-site metrics contrasted with bounce rates related to a page of relevant content.
High-quality content often takes the form of blog articles or other written material, such as reports or case studies. While content quality should stay on target with the searcher's query, it should also follow SEO best practices to achieve maximal effect. It has to balance a healthy mix of keyword relevance and technical optimization for Google to consider it.
SEO Vs. Quality Content
Great content creation for your brand is an important aspect of any SEO marketing strategy. SEO is different than content marketing because it's made up of techniques that go into making a web page appear on Google. This is usually influenced by the relevance of the quality content on the page.
So while the two are closely related, they are different. Think of SEO as the umbrella term that contains categories like on-page, off-page, local, and technical SEO. Written content marketing would naturally fall under on-page SEO.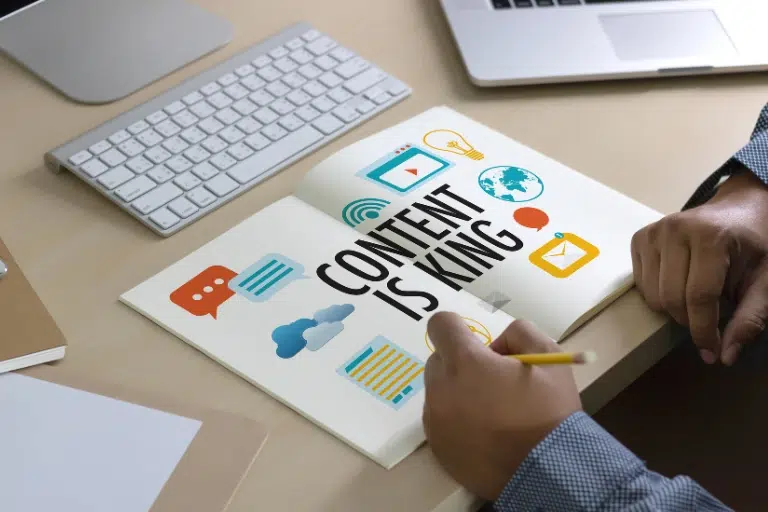 (Image Source: Canva.com)
Along with all of that other technical stuff, SEO content is there to provide substance in the grand scheme of search engine optimization. The stronger a piece of content is in terms of quality, the better the user experience will be. Not only that, if your written content is strong enough, it will generate backlinks from other brands, which will ultimately lead to higher rankings.
That will allow the page to rank higher from that piece's presence on the site. While SEO is central to any online marketing strategy, a good content strategy should be at the heart of it. Quality content supports SEO efforts by pointing search engines to something substantive.
Types of SEO Content Marketing for Web Pages
While there exist completely different strategies of quality content creation for SEO, there are several categories that most types fall under:
Writing quality blog posts, both long-form, and short-form
High-quality backlinks
Including relevant keywords
Lists
An interactive asset or tool, like a calculator
Data-rich studies or reports
Videos
Infographics
Podcasts
Social media
There's no definable limit on what SEO "content" can consist of, but it's generally some form of consumable media that provides value to someone.
Why Content is Important for SEO
Great SEO content is like the backbone of your website. Valuable content marketing should help online readers, usually by providing an answer to a question. Optimized content creation is important for SEO as it helps your site pages rank better. It informs search engines, like Google, that your website might have the answer to someone's query.
When a search engine receives a request, it goes on a comprehensive journey through its indexes to deliver search results. It will attempt to find sources that contain useful and relevant content that might connect to the query. As it's scraping the indexes, it measures the relevance of those websites, partly based on any content that might match the query. Once it assigns a connection to the content, it locates where that quality content is and lists the source among the SERP.
This is the modus operandi that Google follows. It's the reason you, as a content marketer, ought to be intentional when writing SEO content. It's so that Google will identify that carefully crafted content as the best match for search queries that pertain to custom content about your brand.
Valuable Content Still Benefits From Deliberate Usage of Keywords
Though big advancements have occurred in ranking websites in a way that matches real value, keywords do still matter. Google's algorithms respond well to relevant placements of keywords.
With that said, the intentional placement of various keywords throughout rankable web pages is an important factor in achieving better rankings. You ought to perform keyword research, ensuring that you include the most relevant search terms in your content that have the best chance of helping the page rank better on Google. Remember that your keyword research should reflect search patterns from your target audience.
It is possible to determine the importance of keywords by determining how often you have included them in a page title tag or post. Tools like Ahrefs and SEMrush help SEOs understand the degrees of difficulty that keywords have when trying to rank for them.
How to Optimize Content for Search Engines with Keyword Research
For many marketers, the number of options there to optimize content may feel overwhelming. This is a totally normal feeling. One of the hardest parts of knowing which SEO strategy to tackle first is understanding which activity is going to drive your website higher in search engine rankings.
One of the first things you want to do is research your audience. In order to produce material that will be useful to them, you need to be on their wavelength. You need to know exactly what it is that they're looking for and deliver it to them. This is all part of the strategic process of building a calendar for marketing content.
In the process of strategizing high-quality content, you want to come up with ideas that refer back to keywords that users are searching for. The keywords you end up choosing should be reasonably rankable, given the scope of your project.
For example, let's say you want a page to rank for the keyword "applicant tracking system," which has a keyword difficulty percentage (KD%) of 71 out of 100. It will likely need a lot of supporting material and referring domains for Google to recognize the page as a top contender worth appearing on page one of the SERP. Now, you can go through the effort of pursuing those higher-difficulty keywords, but it will likely require many referring domain backlinks, which is a major part of why people link build.

(Image Source: SEMrush)
For the moment, though, let's say you instead opt to target the keyword "white label applicant tracking software," which has a KD% of 20 out of 100. This will be much easier to rank quickly, requiring a lot less supporting SEO content and referring domains.
As you do this, your content library will grow. Over time, two things should happen. Search engines like Google will slowly crawl your website pages, and other brands will hopefully refer to your content. Your domain will carry more credibility in the future should you try to rank for higher-volume, higher-difficulty keywords.
You may be asking yourself how to get other brands to link back to your content. That's why we link build. It's a powerful way to leverage high-quality content through networking.
How to Optimize Content for Search Engines with Link Building
Link building is basically a form of trading. Where two brands share some commonality, there is usually an opportunity to exchange links. It is in these cases that you can optimize your content by offering to refer to another brand's content if they also refer to yours. You can reach out to credible link prospects in a few different ways:
Domains that point to competitor content – Reviewing competitor sites for where they are linked can be a helpful insight into who you might want to reach out to, extending an offer to exchange links.
Broken links on prospect websites – Sometimes, you may come across existing broken links on a prospect's website. In these circumstances, you can offer a link to your own content as a suitable replacement for the broken link. It's a win-win for both.
Non-linked mentions of your brand – You may eventually notice that other sources mention your brand in their own content. If left unlinked, you can reach out requesting that they link to you. You may find they will be eager to cooperate since they already view your brand favorably enough to mention it in the first place.
Guest post content – You can invite a guest content writer to write content on your website, tying it back to their own domain.
Google likes to see links in rankable content, which makes link-building a very important SEO factor for content and marketing strategy. To that end, Google also prefers quality links over quantity. A lot of poor-quality links will not be as effective for your optimized content as a few high-ranking content links.
While there exist other formats of link building, it is important to avoid purchasing links. This is not regarded kindly by Google and usually carries ranking penalizations if discovered.
Final Thoughts
Curating the right content for SEO can be tricky, but by tackling one thing at a time, it can be manageable. So long as you're keeping tabs on what your target audience needs and how your competition is responding to it, you should have an idea of how to contribute meaningful content from your own perspective.
Thankfully, you don't have to do it alone, either. The reason agencies like NAV43 exist is to help brands grow their digital footprint and generate results. If you're ready to take the next step in your content journey, try reaching out to them today and see how they can bolster your marketing plan.
Wondering how much do Google Ads cost? Explore the essential cost considerations, optimization tips, and cost management strategies for your PPC campaign.

Wondering how much do Google Ads cost? Explore the essential cost considerations, optimization tips, and cost management strategies for your PPC campaign.

Telling Google Ads how much your conversions are worth will help generate greater performance.

Telling Google Ads how much your conversions are worth will help generate greater performance.

If left unchecked, it could easily lead to missing your business' quarterly conversion targets, or even worse, your end-of-year stretch goals.

If left unchecked, it could easily lead to missing your business' quarterly conversion targets, or even worse, your end-of-year stretch goals.