The ROI-Driven Google Shopping Remarketing Tactics Your Online Store Should (Already) Be Using
As the adage goes, "Out of sight, out of mind." Google Shopping remarketing, sometimes also referred to as retargeting, is arguably one of the most effective ways for eCommerce brands to increase your sales and get a better ROI on their marketing investment.
In a nutshell, remarketing is the practice of showing ads to people who have previously visited your website or interacted with your brand via social, email or other online channels. It's an important tactic that online stores can use to keep their brand, and its products or services consistently top-of-mind for shoppers.
Most eCommerce brands simply remarket to "All Users", or in other words, anybody or everybody who has visited their website. However, the problem with this is that it lumps everybody into the same boat, casts too wide of a net, and usually results in a lof of wasted ad spend.
We've put together some advanced eCommerce remarketing strategies that are sure to help you create much more relevant ad campaigns and supercharge the ROI of your ad campaigns.
Remarketing vs Retargeting: What's the Difference?
Considering the fact that you're reading an article about Google Ads eCommerce remarketing strategies, you have likely come across both terms across various support articles and blog posts. Rest assured, they're essentially the same thing and both terms can be used interchangeably to describe the process to showing ads to people who have previously engaged with your brand.
Some brands call it remarketing. Others call it retargeting. We've included a quick breakdown for your reference.
Uses the Term "Remarketing"
Uses the Term "Retargeting"
Google Ads
Amazon Advertising
Microsoft Advertising (Bing)
Facebook Ads
LinkedIn Marketing Solutions
For the intents and purposes of this article, we'll use the term 'remarketing' since we're dealing with the Google Ads platform.
The Types of Remarketing in Google Ads
Most people think remarketing is purely pixel-based. While pixel-based remarketing is definitely the most prolific way to re-engage people, who have previously visited and interacted with your online store, you can also remarket to people who have consented to you using their personal information for marketing purposes, as well as people you have in your eCommerce CRM.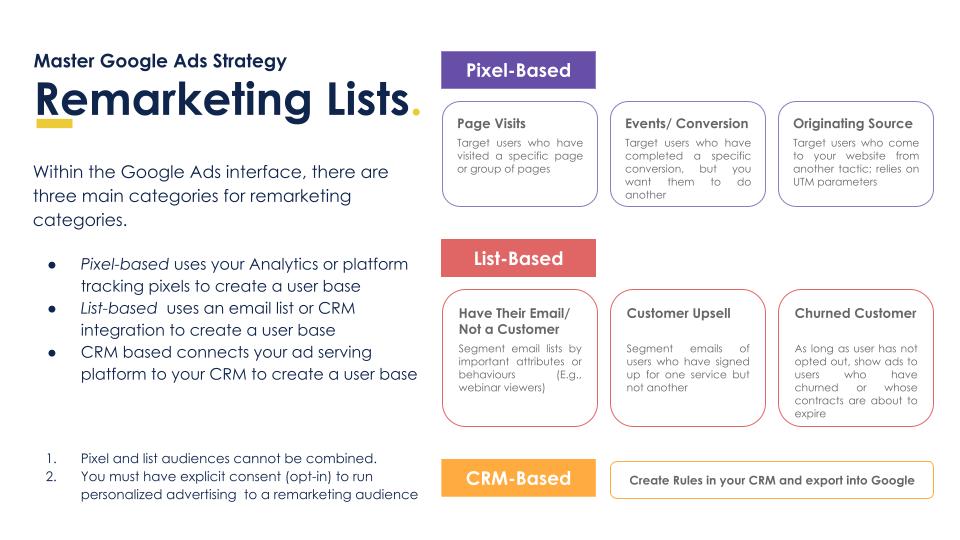 Combining each of these methods allows you to get more granular with how you reengage with people, and can help facilitate more relevant brand interactions. Remember: just because a user has been on your site, doesn't mean that they will come back or that they were ready to purchase on their last visit. A well-timed reminder can do wonders for closing the sale.
Advanced eCommerce Remarketing Strategies: Building the Right Audiences
There are many different ad types and audiences to target for your ecommerce business, and each has its own pros and cons. The biggest pro of all of these is that compared to other ad efforts it tends to be cheaper on a Cost/Transaction compared to any other ad effort because of high relevance to the audience.
That is, when your target audiences are also highly targeted and relevant. We've put together some essential Google Ads remarketing audiences for eCommerce brands.
The Audience
The Good
The Bad
Branded Search: Capitalize on the audience that had a good experience with your product and are looking for your specific brand/product.
Dominate the competitive market. In a highly saturated/competitive landscape, your competitors are likely bidding on these terms, and stealing your revenue. You can reclaim this revenue at a low cost.
Get direct sales and avoid the middleman. If you are a manufacturer with multiple resellers, you can skip the middleman and claim the sales for yourself, improving your results.
May not be very effective if you are the biggest brand on the market, selling directly to customers.
Website-wide Remarketing: capitalize on the audience that visited your website. If they visited your website, they could be a potential customer.
Reach users at a later and possibly better time when they can convert. Catch-all for all visitors. This is an ideal strategy to ensure you reach all audiences who visited your site or if your audience size is small because you have a lower number of website visitors.
Can capture the audience who have already purchased the product if it isn't set up correctly. Can present the wrong product for the customer if a business has a lot of product lines (E.g., Ikea showing you discounts on a kitchen sale when you were looking at patio furniture.)
Product Specific Remarketing: Focus on the audience who visited specific products/product categories of the website.
Reach users with a product/product group that they have viewed before.
Ideal for businesses with many product lines.
It may not be a viable strategy if the traffic volumes for each product categories is limited
Checkout Specific Remarketing: Focus on the audience that completed a specific action on your website. (E.g., added product to cart, abandoned checkout process.)
Reach users who almost converted on your website but did not.
Can capture the audience who have already purchased the product if it isn't set up correctly.
Can present the wrong product for the customer if a business has a lot of product lines (E.g., Ikea showing you discounts on a kitchen sale when you were looking at patio furniture.)
Pro-Tips to Help Ensure Your eCommerce Remarketing Strategies Succeed
If there are multiple audiences being used, negative audiences need to be created to ensure each audience performance is
Avoid targeting people who have already purchased your product, especially if the product you sold them has an intended long-term use
There are a lot of moving parts to ensure remarketing ads reach the right audience, but perhaps more importantly, show them the appropriate products and/or messaging. That's why it's important to regularly QA check your setup or outsource its management to a reputable eCommerce Management agency.
When creating an audience list a website user is added to your audience for a limited amount of time of your choosing. The default audience membership duration is 30 days, but it is also commonly set to 60, 90, and 120. The ideal duration largely depends on your product and the psychology of your purchaser. If the product is pricier and the buyer's journey takes longer – a longer audience membership length would work better. If the product is more of an impulse buy – a shorter duration would suffice.
In Conclusion: Only Targeting "All Users" Just Isn't Enough
While there are certain dos and don'ts your retargeting strategy depends on your business and your product. Simply targeting "All Users" isn't an effective catch call solution. Instead, think carefully about the eCommerce remarketing strategies you deploy on Google Ads.
In order to maximize the performance of one's remarketing tactics, the right strategy should be implemented. Whether it's product-specific, checkout specific, or just website remarketing, each strategy should be set up and implemented correctly to be effective.
Need help? Well, you've come to the right place. As an experienced eCommerce marketing agency, we've helped many brands just like yours launch and optimize Google Shopping and Display remarketing campaigns that deliver a solid Return on Ad
Spend. Tell us about your marketing goals, and we'll give you a solid roadmap to achieve them.