Achieving Brand Visibility using Google's Integrated Marketing Ecosystem
Growing a business has become more challenging than ever within the digital landscape.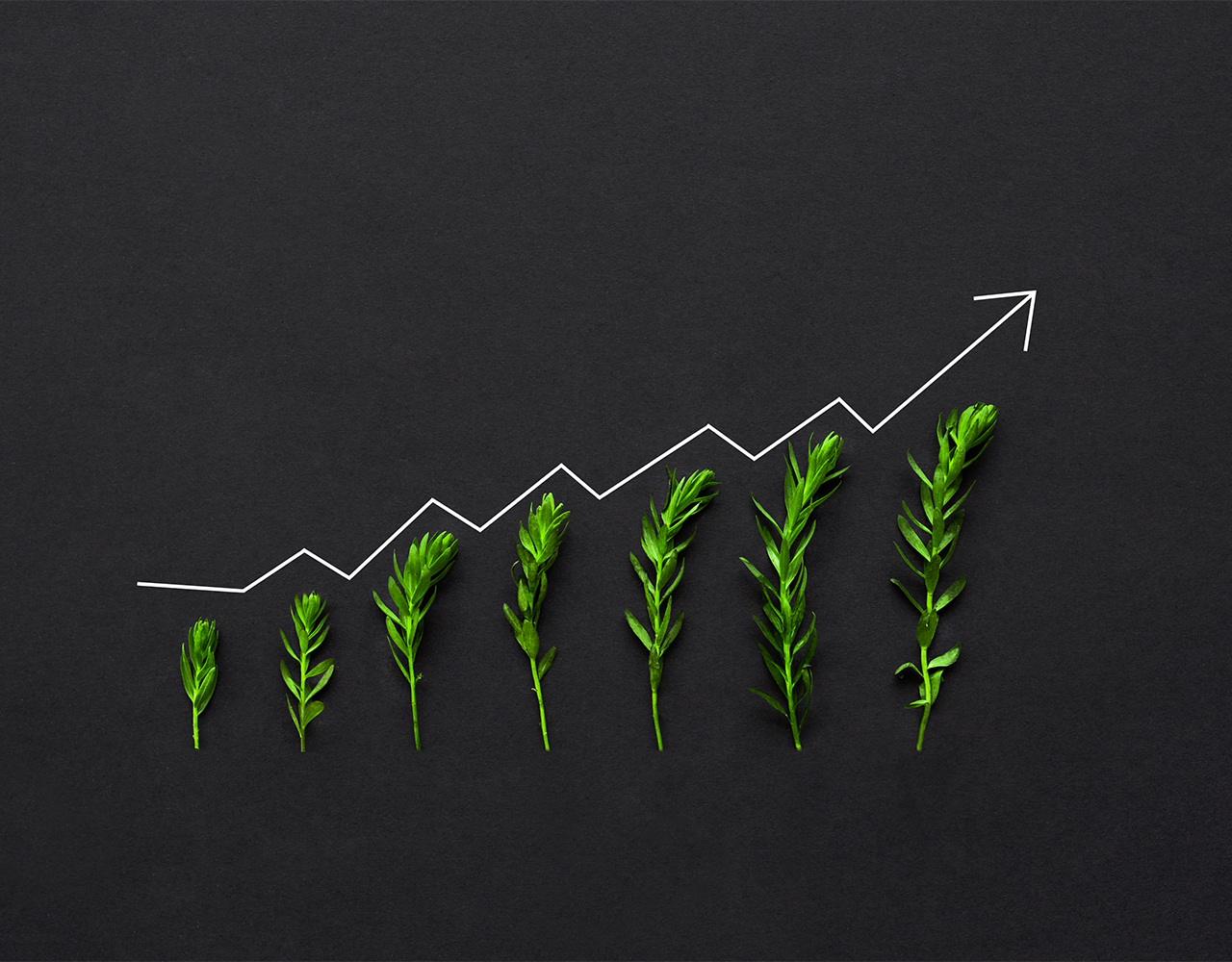 The Internet has created a global marketplace, where each online business is competing with thousands, and sometimes millions of other retailers for a sale. Making your business visible to online shoppers is key to gaining online prominence and market share.
It's today's reality for ecommerce brands that it can take 6 to 8 brand touches with a consumer before they make a purchase. This means a company, brand or product needs to make it a priority to get in front of a consumer enough times and in enough places in order to convert them to a buyer.
A good digital marketer recognizes the different touch points of the consumer journey and mirrors their digital strategy accordingly. Since no two people are the same, these touch points will continuously move and change depending on a variety of external factors. So how does a product or brand ensure they are creating the various touch points needed to convert an ever-changing consumer into a customer?
Understanding Your Consumers Journey
Gone are the days of a single click to purchase. In fact, a recent survey of over 1,500 Canadians done by StackAdapt revealed that more than 38% of consumers say they almost always discover a product on mobile but make the actual purchase on a bigger device. (StackAdapt has a great How Consumers Buy on Mobile infographic you should check out here) The path to "discovery" can take place almost anywhere on the internet. From a Facebook share, to a YouTube pre-roll, all the way to a long-tail Google search. The roads to consumer discovery have become infinite. Understanding where and when your target market is most likely to make the discovery is key so your brand can be there with open arms.
The Google Adwords Ecosystem
No one knows more about consumer discovery patterns than Google. With over 10 years of data to analyze, they developed an intricate ecosystem of consumer touch points that span their vast network. Each touch point, or ad placement allows brands to connect with the consumer at their unique point within the consumer journey.    Google's Ecosystem is comprised of four key ad placements: Search ads. When users have a question, they turn to Google to provide the answers. This is the foundation of which search ads were created and purchase intent can be captured. We can capture the user's attention during their research phase as well.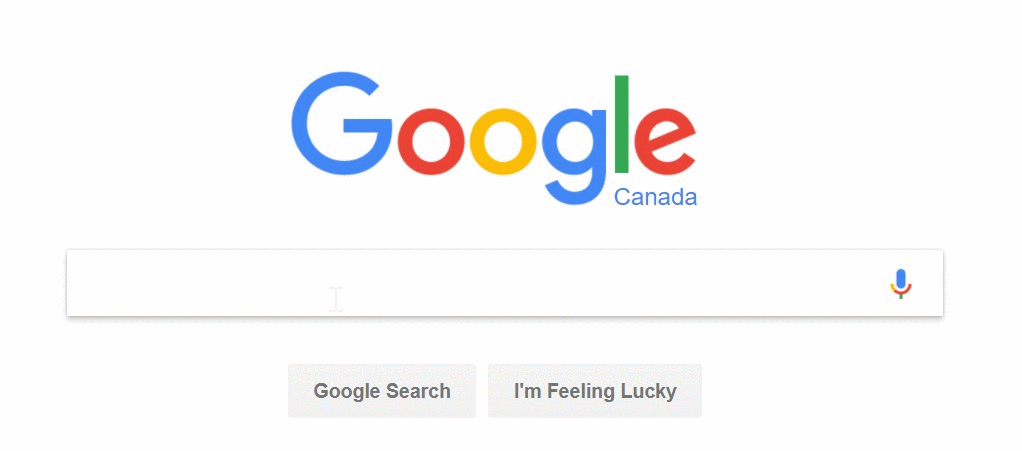 Display ads. Surfing the net goes a lot deeper than just watching cat videos. Websites and the users who visit them are constantly being categorized by the content within. To target on display is to target by categories of websites or users based on the content they create or consume.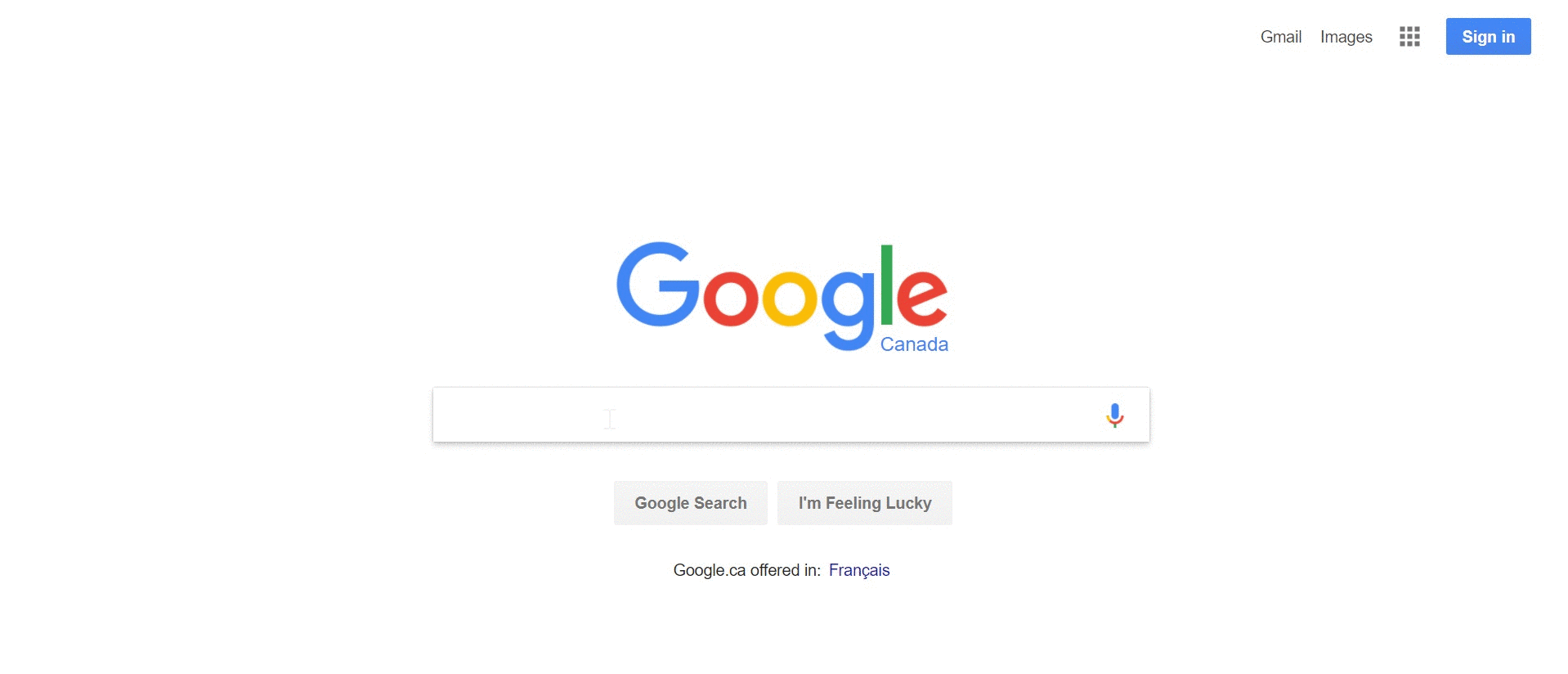 Google Shopping. They say an image is worth a thousand words. That is why Google introduced Google Shopping – to capture interest using the power of imagery. By using high intent keywords outlining specific products presents the perfect opportunity for brands to make the sale.
Remarketing. It's real easy to spend money advertising on the Internet. That's why it's critical to prioritize ad spend to where it has a higher likelihood of resulting in a sale. Google Remarketing gives brands the ability to create hyper-segmented lists of users based on their varying levels of website engagement. Most importantly, each of the formats above can be used as a placement for remarketing lists.
Each platform has it's own set of strengths, but when used together, they can create a holistic user experience that lands the sale.  
How to Carve Out a User Journey
So, we understand that the consumer journey has changed, but now we need to understand how to build a marketing campaign accordingly. Users are moving constantly moving across platform seeking information from various sources. The key is to identify what information a user would want, when and where.
Case Study: Sears & Kenmore
It's easy to find examples of brands using Google's ecosystem to its fullest. In this example, Sears Canada and their September 2017 campaign for Kenmore appliances.
Discovery
It's important to remember that the discovery platform will always vary by user. Some will spend a great deal of time on YouTube, while others rarely visit. That is why it is important to set up various discovery campaigns outside of Google, like Facebook and Pinterest. Think of it like a fishing net – the bigger the net, the more fish you can convince to buy your products. In this case, Sears opted for YouTube as one of their discovery platforms.  Instead of a pre-roll video, they used a larger static banner image on the homepage. This is considered part of the Google Display Network.

Mobile Search Advertising
The rule of 7 states that something must be seen or heard 7 times before it is remembered. While this is not a hard and fast rule, it does speak to the importance of continual brand recognition. In this example, the user discovered Sears Kenmore ad on Youtube's display network. Let's assume they did not click on the ad, however, the concept of a Kenmore appliance stayed top of mind. Later on, on their mobile phone, they search "Best Kenmore Washer and Dryer".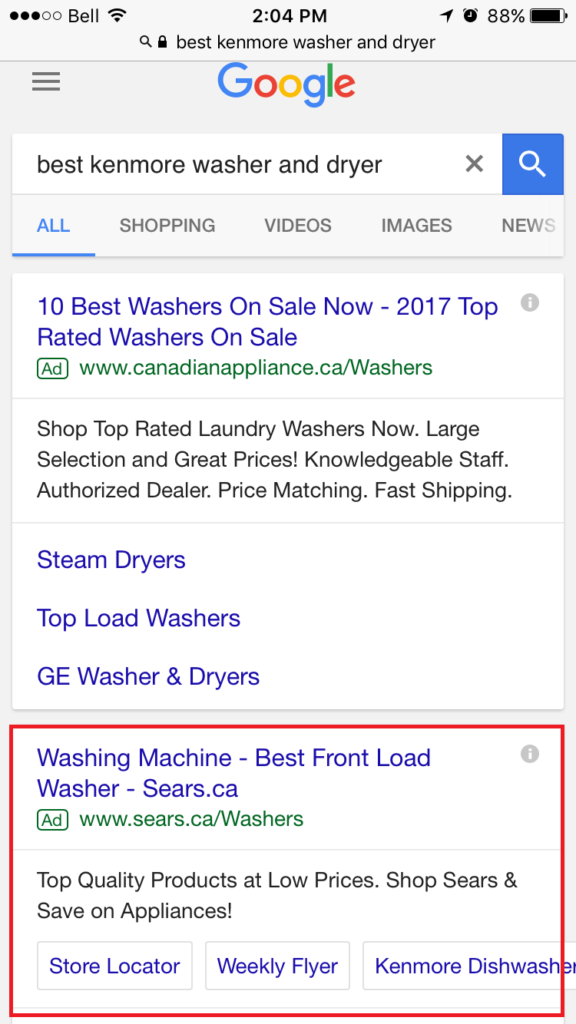 The NAV43 Take: this ad could be vastly improved to reflect the specificity of the Google search. In order to capture those clicks and increase relevancy, the brand name and specific search verbiage must be included within the headline.  
Desktop Search Advertising
There are two ways a brand can "dominate the SERP" (search engine results page) – paid and organic. Strong brands understand that they must work in parallel, not one or the other. If we refer back to our example user, they have now performed a search on their phone and viewed a display ad speaking to Sears as the go-to retailer for washer and dryers. Perhaps they weren't convinced, perhaps the ads weren't enticing enough to earn the click. They continue their search for Kenmore on desktop. Here we see the efforts of Sears digital hard at work. Text ads, organic search results and Google Shopping paint the SERP with a relationship between Kenmore and Sears. By adding a Google Shopping element, they can capture their audience with pricing and imagery.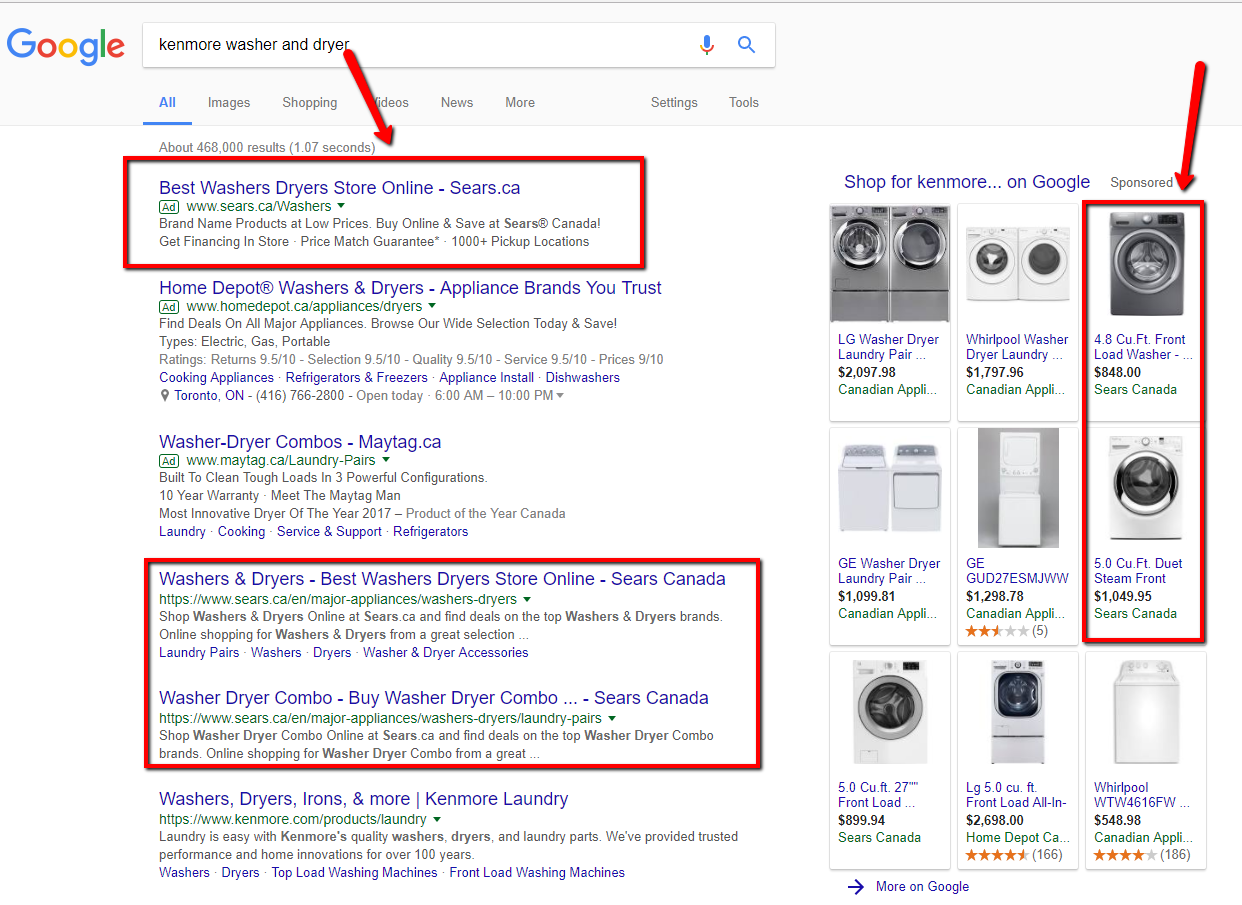 Geo-Specific Search Advertising
73% of all Canadians use the internet strictly on mobile, and this stat is expected to rise. We expect information when and where we want it and all with minimal input.
"Near me" Google searches are reflective of this trend, and should never be discounted when it comes to a holistic marketing campaign.
In this final stage of the user journey, the Sears brand has been visible multiple times. On their mobile phone, they search "Kenmore washer and dryer near me". Sears is not only visible but using a store locator extension with the exact distance that they are away from the closest store. With this one specific Google search, we know that this user is nearing the bottom of the funnel.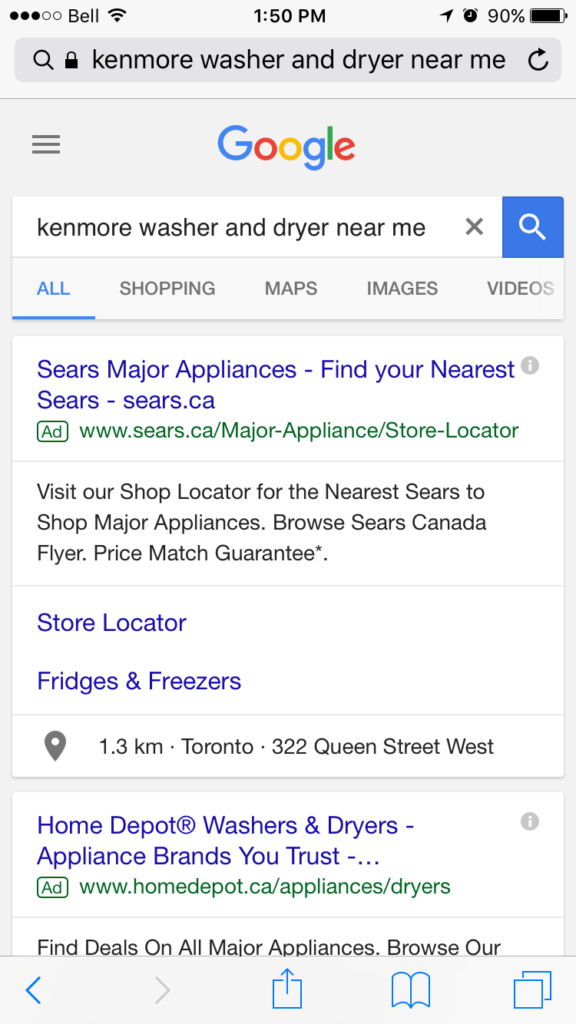 In a perfect world, the user will see this ad, visit the store and purchase the washer and dryer. Which begs the question – how will the brand know that their extensive efforts led to the offline sale? Well that's a whole other topic of discussion.
It's Time to Get on the Google Train
It doesn't come as a surprise to anyone how powerful Google has become over the years. Their intricate ad ecosystem has sustained them a 74% market share of search advertising revenue in the US alone. They are continually evolving with the market and the expectations of their users which keeps them as the platform of choice for many marketers. Are you using the Google ecosystem to the fullest?  
Wondering how much do Google Ads cost? Explore the essential cost considerations, optimization tips, and cost management strategies for your PPC campaign.

Wondering how much do Google Ads cost? Explore the essential cost considerations, optimization tips, and cost management strategies for your PPC campaign.

It can be difficult to know the difference between the two aforementioned tactics, and even more difficult to know when to use them.

It can be difficult to know the difference between the two aforementioned tactics, and even more difficult to know when to use them.

Telling Google Ads how much your conversions are worth will help generate greater performance.

Telling Google Ads how much your conversions are worth will help generate greater performance.